Overview
WealthBriefing is excited to announce the launch of an awards program highlighting the importance of external asset management to the Swiss wealth management industry.
Building on the long-standing success of our annual Swiss Awards for the wealth management industry, the nomination process for the WealthBriefing Swiss External Asset Management Awards for Excellence 2021 is now open.
The categories for entry are focused around these main areas:
Swiss National
Swiss Regional
Team-Based
Products & Services
Technology (both in-house and external)
Individual and Leadership
As is the case for all our global awards programs, independence, integrity and genuine insight will be the watchwords of the judging process, which as always will be conducted by expert panels drawn from both custodian banks and trusted advisors/consultants to the sector.
A selection of our judges have shared their top tips for an outstanding submission (please click on image to view).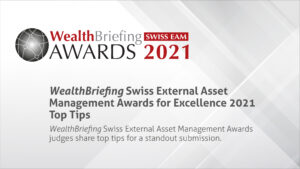 Having reported on the wealth management industry for over 15 years and being responsible for several research report specifically covering this area, we are best placed to initiate a process that fairly rewards achievement, top class performance and innovation.
Winning a WealthBriefing Award sets organisations and individuals apart from their peers and is a tangible demonstration that they have something special to offer.
We very much look forward to you joining the process and to welcoming you to celebrate your achievement at the awards presentation to be held at the Park Hyatt Zurich on 4th March 2021.
For further information on sponsorship opportunities please contact: andrew.deane@clearviewpublishing.com
For more details about the awards process please contact: rachel.fokes@clearviewpublishing.com
Key Dates
Key Dates for your diary
Nominations – Now closed
Submission Deadline – 27th November 2020 (at midnight)
Winners Notified – 2nd December 2020
Public Announcement – Thursday 4th March 2021
Judges
Our global awards program is built on the independence of our judges. For the
WealthBriefing
External Asset Management Awards, the judges are being invited from partners in the custodian banks, technology companies and other service providers. 
Each judge will have signed an NDA to ensure that all the information they receive in the submissions is kept in the strictest confidence. Further judges will be advised in due course. 
Trusted Advisor Panel

Daniel Aghdami
Founder
Dart Talent & Executive Search
Daniel founded DART Talent & Executive Search in 2009 with the vision of creating an exceptional wealth and asset management search partner to a select client base. He gained his knowledge through his work at several leading global financial institutions including Goldman Sachs, and at another recruitment and executive search boutique. Daniel grew up in the UK and Switzerland. He specialises in executive level searches with a particular focus on investments and the EMEA region.

Dr. Mario A. Bassi
Senior Advisor
Private Wealth Management
Mario brings extensive experience to the industry as senior advisor driving sales and business initiatives in Asia Pacific for UHNWI/FO service providers. He draws upon his detailed understanding from roles such as global head of business management for ANZ Private Bank in Australasia, where he defined and delivered the strategic and operational needs for the business.
Previously Mario worked for leading wealth managers such as Vontobel, Credit Suisse and Deutsche Bank, holding positions across a variety of disciplines including relationship management, business and financial planning, training and development, strategy, business development and marketing communications in both Europe and Asia. He was also managing director for Solution Providers Management Consulting, leading its growth in Asia Pacific, specifically Singapore.
He wrote and published his Ph.D. thesis about the supervision of External Asset Managers [EAM] in Switzerland ("Der bankunabhängige Vermögensverwalter: Analyse des Handlungsbedarfs einer möglichen Aufsicht unter Berücksichtigung des amerikanischen und englischen Rechts"), build up/out of various EAM desks in Switzerland and Singapore and serviced this segment.

Klaus-Michael Christensen
Founder & CEO
Klaus-Michael Christensen founded several companies in the 1990s in the sectors of fintech, hightech, and biotech. He joined the private banking industry in 2001 serving four banks. They were Bank Rothschild AG, Lloyds TSB Ltd, Coutts AG, and Société Générale Ltd until 2019. His clients were HNWIs, External Asset Managers and Multi-Family Offices, in Switzerland, Europe, and Latin America. He held roles as director, portfolio manager, asset manager, relationship manager and head of EAM departments. In August 2015 he founded the Swiss Impact Investment Association to make awareness about Impact Investment and in March 2020 he founded Sevenbridge to advise impact companies in scaling their businesses by connecting them to service providers and impact investors.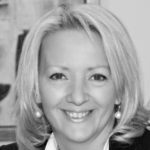 Cecile Civiale Vuillier
CEO, Group Head of Private Client
Trustconsult Group S.A
Cécile is the CEO for Trustconsult in Switzerland as well as Head of Private Client for the Trustconsult Group. She has an extensive wealth & estate planning career, earning a solid reputation for her work on international trust & foundation. Her experience includes managing complex & sophisticated trust and corporate structures for private and corporate clients located around the globe, including Latin America and Asia but more specifically in the Middle East.
Cecile is chairing the Wealth Management & Estate Planning focus Group of XLNC, she is also an active member of several significant professional bodies including The International Bar Association (IBA) and The International Tax Planning Association (ITPA). Former Chairwoman of the STEP branch in Geneva and also Former Chairwoman of the STEP Swiss & Liechtenstein Federation, acknowledged as a "prominent figure in the Leading Trustees" category of CityWealth Leaders List. Cécile has also been a presiding judge for the STEP Private Client Awards and for WealthBriefing Awards Switzerland & Liechtenstein for many years.
Cécile has qualifications in company law and practice, tax compliance, international trust
management, trust administration and accounts, and trust creation.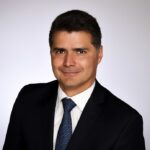 Pierre Daelemans
Head of Latin World and Professional Clients
CA Indosuez (Switzerland) SA
Pierre Daelemans is a seasoned wealth manager with a lengthy experience in dealing with a large panel of international clients: HNWIs, External Asset Managers, Single or Multi-Family and Offices, in Switzerland, Northern Europe, and Latin America. For nearly two decades, Pierre has applied his experience, professionalism and well-developed technical skills to deliver 'first-class' services to clients.
Before joining Indosuez Wealth Management in 2020 as Head of Professional Clients in Switzerland, Pierre Daelemans successively managed the North European, Latin American and EAM markets in an International Swiss private bank.
Swiss, Peruvian and Belgian, Pierre holds an MBA from Queens University (Canada) and is graduated in Engineering from Louvain University (Belgium).

Pierre Dupont
Managing Partner
WIZE by TeamWork
Pierre is Managing Partner at WIZE by TeamWork, the all-in-one Wealth & Asset Management solution, which is one of the fastest growing WealthTech companies in Switzerland dedicated to External Asset Managers, Family Offices, Fund Managers and Banks.
He brings the judges panel an extensive banking operations & IT expertise acquired in his current role since 2020 but also during the 9 previous years while heading business development of Bank Lombard Odier global custody & reporting services which he joined after 10 years as Private Banking Client Executive at IBM Geneva.
Both Swiss and Belgian, used to work in multi-cultural and multilingual environments, his motivation has been during his whole career to understanding customer's pains, translating those to experts who are able to solve them and setting the right level of expectations on both sides.

Ian Ewart
Chairman
Acin Ltd
Ian is a C-Suite leader, Director and an Advisor. He has a focus on customer experience and organizational progression. 
As a former member of the Executive Committee of Coutts & Co, RBS and in addition a Board member at Adam & Co, Ian is known as an industry strategy leader and reference for marketing, business development, brand creation and implementation and innovation. Ian is actively involved with a number of innovation firms and partners in FinTech, Payments disruption, Savings and Pensions, and is an Advisor to YEXT and KORE.
He is currently Chief Marketing Officer at Acin Ltd.
Additionally, Ian sits on a number of advisory boards in organisations with both commercial and philanthropic purpose.
Ian is a Fellow of the Institute of Directors. 
He has enjoyed a highly international career; is Swiss and British.
Ian lives in the UK and Spain and is married to his wife Zoe; they have four grown-up children.

John Hanafin
CEO
Huriya Private
John Hanafin is a financier, investor, deal maker and established Huriya Private after 15 years in financial services in the Middle East.
A focused professional with entrepreneurial drive and a commercial mindset. John has over 25 year's experience in the HNW Trust & Corporate Services industry, with 15 years based in Dubai, Doha and Manama. With an extensive background in serving the specialised needs of high net worth investors around the world, John brings to the table proven leadership experience in global financial services, residency and citizenship planning, estate planning and other related services. In addition to sitting on the boards of various organizations globally, John is also a trusted advisor to governments for the structuring and implementation of programs to boost corporate re-domiciliation and foreign direct investments.
John is a Chartered member of the Securities Institute (CISI), a member of the Society of Trust and Estate Practitioners (STEP), a member of the International Tax Planning Association (ITPA), a member of the International Business Structuring Association (IBSA) and an FA Registered Intermediary, authorized to conduct intermediary activity on behalf of professional football players and clubs in England.

Anne Liebgott
Founder & Managing Director
AW✚SWITZERLAND
Anne is founder and managing director of the award-winning, Swiss online platform AW✚SWITZERLAND at americanswelcome.swiss. AWS introduces Swiss asset managers registered with the Securities and Exchange Commission in the United States and dedicated to providing Swiss-based wealth management services to US and Canadian citizens, residents, and expats. The platform includes other wealth management-related services as well. In addition, Anne provides US-oriented, digital and traditional marketing, communication, and business development strategies through her agency, Americom.

Laurent Pellet
Executive Vice President, Global Head of EAM
Lombard Odier
Laurent Pellet joined Lombard Odier in June 2017. He assumed responsibility for the Group's External Asset Managers department in 2018.
His career began with Ferrier Lullin, where he held various positions for more than 15 years, including Head of Credit and Risk, and subsequently Head of the External Asset Managers department in 1997. In 2006, he joined Julius Baer to lead their External Asset Managers business for the French-speaking part of Switzerland and Western Europe. In 2012, his responsibilities were extended to cover Monaco and the Middle East.
Laurent Pellet holds a Federal Diploma (school leaving certificate) from the Ecole Supérieure de Commerce de Genève. He is a graduate in Credit and Risk Management from the University of Geneva, and in Quantitative Portfolio Management from HEC Geneva. He also holds the 'International Certificate of Private Banking and Wealth Management Retreat' from the Swiss Finance Institute, and is a Certified Wealth Management Advisor (CWMA).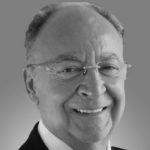 Ray Soudah
Chairman and Founding Partner
MilleniumAssociates
Ray Soudah is the founding partner and chairman of MilleniumAssociates, the independent international M&A and Corporate Finance Advisory firm, based in Switzerland and the UK. Founded in 2000, the firm marks twenty-two years of exceptional, independent M&A and corporate finance advisory service. Originally focused on executing M&A transactions in the global financial services industry, as the industry developed and private banks recognised the need to offer their clients more specialist corporate finance advice, Millenium Associates launched their Entrepreneurs and
Corporates Practice, extending their M&A and corporate finance services to the clients of private
banks as well as corporates and entrepreneurial business owners globally.
Ray has extensive multicultural wealth management and private banking/investment banking experience working in territories as diverse as the US, Asia, Middle East and Europe. Earlier positions include; Managing Director and member of the Private Banking Management Board for SBC/UBS AG; Chief Investment Officer, Chief Financial Officer and member of the Executive Board of Cedel Bank (renamed Clearstream); Chief Investment Officer for the National Bank of Bahrain including Head of International Banking and Private Banking; CEO of Hong Kong, CEO of Japan, Head of Global Capital Markets office (London) and head of FIG for Midland Montagu Investment Banking and MD/CEO of
Midland Montagu Securities as well as various senior positions within Citigroup, including Head of Asia Pacific Treasury and Capital Markets.
Ray is a Harvard Business School & INSEAD alumnus and speaks English, French, Greek and Japanese.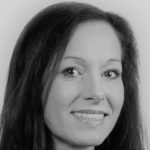 Wendy Spires
Head of Research
ClearView Financial Media
Wendy has been a wealth management journalist, researcher and consultant for a decade, covering a huge range of international markets and sub-sectors over that time. Known as a technology and communications specialist, she has written an array of in-depth reports on issues affecting private banks and wealth managers, ranging from compliance and innovation trends through to client experience, branding and marketing strategies. As well as speaking at conferences in both the UK and abroad, Wendy also regularly consults for wealth and asset managers, including carrying out research projects among end H/UHNW clients for both internal and external purposes.

Pius Stucki
CEO and Founder
Etops AG
Pius Stucki has broad experience in product management and information systems for the asset management industry. Having worked with Swiss banks and family office for a couple of years he has extensive experience with operations and software solutions for asset managers, family offices, pension funds and private banks.
Pius Stucki holds a Bachelor of Science in Business and a Master of Business in Information Systems from the Virginia Commonwealth University Richmond, Virginia, United States.
As a former professional athlete Pius still loves to compete successfully in national and international running and cycling events.
Specialties: Operations of asset managers, (fund of) hedge funds, system integration for asset managers, process optimization, reporting.

Peter Vangehr
Head of the Intermediaries Business
VP Bank
Peter Vangehr is the Head of the Intermediaries Business at VP Bank Switzerland since beginning of 2019. Peter started his Banking Carrier as an FX Trader with UBS Zurich and after at ABN AMRO Bank for more than 10 years. He has over 20 years of professional experience working with intermediaries, working for leading banks such as Credit Suisse Group, Julius Bär, ABN AMRO Bank and VP Bank. Peter holds different diplomas from the Swiss Banking organizations.

Markus Werner
Head of Intermediaries Business
LGT Gruppe Holding AG
Markus Werner is head of the intermediaries business for LGT in Switzerland and Liechtenstein. He began his career in the corporate banking business at a large Swiss bank and in private banking at a Liechtenstein bank before joining LGT's intermediary business in 1996. The professional collaboration with independent asset managers, trust companies, law firms and multi family offices – professionals with and for professionals – enthused Markus from the outset. The 47-year-old is fascinated by the many exciting changes, the close relations as well as the heterogeneity of the B2B business. He is a Swiss-certified banker with Federal Diploma and holds a Federal Diploma for experts in finance and investments from the Swiss Training Centre for Investment Professionals.
Categories
Entry for the WealthBriefing Swiss External Asset Management Awards for Excellence 2021 is now closed.
The Winning organisations will be announced in March 2021.
For any questions, please contact rachel.fokes@clearviewpublishing.com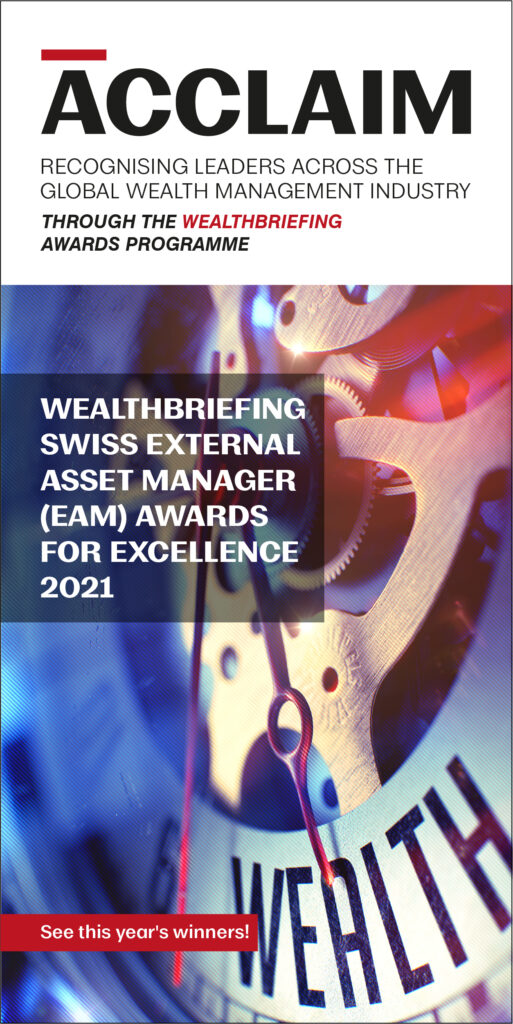 Venue
Park Hyatt
Address: Beethovenstrasse 21, 8002 Zurich, Switzerland
Charity
---
Here is a selection of some of our global charity partners that we supported through our previous awards programs.
Winners Interviews
Winners
SWISS NATIONAL CATEGORIES (COMPANY)
Overall External Asset Manager (EAM)
Notz Stucki
Assets Under CHF 500 Million AUM
Mt Fort Advisers
Assets between CHF 500 Million – 1 Billion AUM
Capitalium Advisors
Assets Over CHF 1 Billion AUM
The Forum Finance Group
Growth strategy
DECALIA
Newcomer
Mt Fort Advisers
INTERNATIONAL CATEGORIES (COMPANY)
Servicing North American Clients
WHVP
Servicing Eastern European/Russian Clients
Marcuard Heritage
REGIONAL AND CANTONAL CATEGORIES (COMPANY)
Based in Zurich
swisspartners Advisors
Based in Geneva
DECALIA
Based in Vaud
MFM Mirante Fund Management
Based in Liechtenstein
Thalmann & Verling Trust
TEAM-BASED CATEGORIES
Investment Process Team
MFM Mirante Fund Management
Portfolio Management Team
DCM Systematic Advisors
Direct Investment Program Team – Sponsored by Indosuez Wealth Management 
Decisive Capital Management
Client Service Team
Telomere Capital
Swiss Domestic Team
Capitalium Advisors
International Team
swisspartners Advisors
TECHNOLOGY CATEGORIES (IN-HOUSE)
Innovative Use of Technology – In-House
Telomere Capital
Client Reporting – In-House
CAPAnalysis
Client Communications – In-House
swisspartners Advisors
Overall Digital Engagement – In-House
WHVP
TECHNOLOGY CATEGORIES (EXTERNAL SUPPLIER)
Overall IT Solution Provider – External Supplier
WIZE by TeamWork
Client Reporting – External Supplier
WIZE by TeamWork
Client Communications – External Supplier
WIZE by TeamWork
CRM Product or Solution – External Supplier
WIZE by TeamWork
Compliance Solution – External Supplier
Wecan Group
Portfolio Management Solution – External Supplier
WIZE by TeamWork
PRODUCT AND SERVICES CATEGORIES (COMPANY)
Fund Selection/Asset Allocation Programme
Notz Stucki
Next-Gen Programme
Mount-Invest
Family Office Proposition
Geneva Management Group
LEADERSHIP-BASED CATEGORIES (INDIVIDUAL)
Chief Executive Officer
Telomere Capital – Dominique de Riaz
Chief Investment Officer
swisspartners Advisors – Peter Ahluwalia
Lifetime Achievement
swisspartners Advisors – Dominique J. Spillmann
Frequently Asked Questions
Q) Do I/my firm need to be a subscriber to WealthBriefing?
A) No, this program is open to all relevant firms.
Q) Is there any upfront cost to enter?
A) No, there is no upfront cost to enter, but you will be offered to acquire a winner's package should you be successful. This includes the option of tickets to attend the celebratory cocktail reception if it can take place. It is our intention to hold an awards ceremony and we will ensure that the prevailing covid-19 regulations are observed to make it a safe and special event.
Q) Is the process open to firms that are not active within the Swiss and Liechtenstein region?
A) The judges will only consider submissions from firms that are active in the region. Please see here an overview of our global awards programmes.
Q) How do you ensure that the judging process is independent and impartial?
A) The judges are independent of the Award organisers and the are divided into separate panels to avoid conflicts of interest.
Q) Can you assure me that any details that I submit will be treated with confidentiality.
A) We collect your details and only share submissions with the judges' team responsible for judging those particular categories. We ensure that there is no conflict of interest with the judges' team before sharing entrants' details. All our judges have signed a Non-Disclosure Agreement.
Q) My submission is likely to be longer than the 1000-word max limit. Would this disadvantage me?
A) We have set the limit out of respect to the judges and we are keen to maintain this to ensure that there is a level playing field between competing submissions.
---