Overview
A Roadmap to 2030
Serving the 100 Year, Multigenerational, Evolving Family with Excellence

Dramatic changes in the industry are occurring at a rapid pace as the clients we serve are evolving in unprecedented ways. Compared to the family of even ten years ago, families are increasingly more diverse, global, nontraditional in leadership and governance, expansive in social impact, wider in generational spread, and buffeted by political polarization. With those shifts come changes in how generations operate, communicate, and relate to each other and to the family offices, firms, and providers who serve them. Their voices will be heard very differently than the client who may have established the initial relationship with the firm.
To help their clients in optimal ways, advisors and family offices must respond with proactive, positive, integrated services. This will also realistically support firms and providers to not get left behind as the industry shifts. What does the UHNW Institute see for trends impacting the client side and the parallel adaptations required for the provider side – not someday but now?
Using the Ten Domains as a roadmap to navigate the highly dynamic wealth management landscape, we will identify the ways that advisors can use this framework to better serve their clients.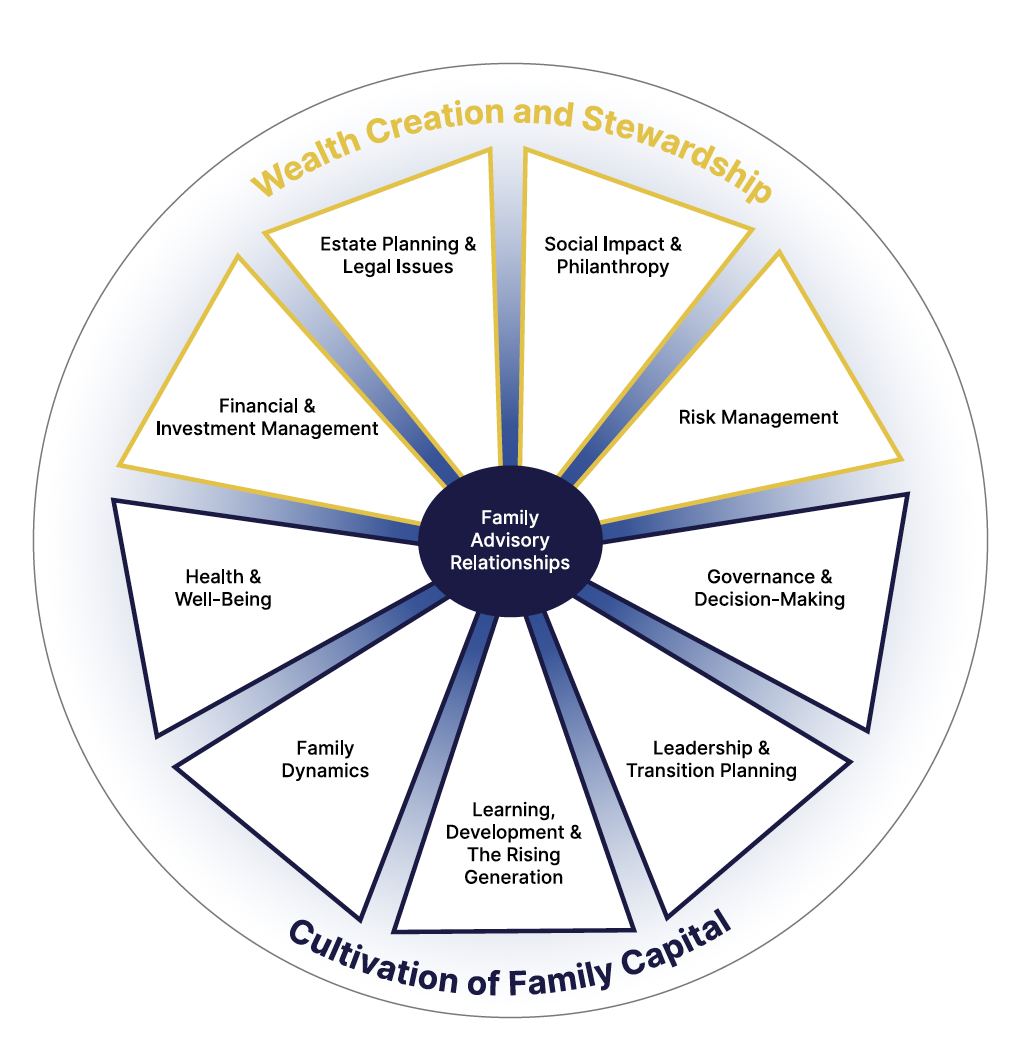 The symposium will take place in-person on Wednesday 2 November 2022, at the Dentons office in New York. It will also be livestreamed.
Conference registration
Please register here to sign up for the symposium. You will have an option to register for in-person or virtual attendance.
In the meantime, for any questions, please email Chloe Evans, Director of Administration at The UHNW Institute.
Agenda
Wednesday, 2 November, 2022 –
Overview
Programming: 8:30am to 5:30pm ET
Cocktails: 5:30pm to 6:30pm ET
Dinner: 7:00pm to 9:00pm ET
MORNING – "Complexity Accelerated: The Evolving UHNW Family"
8:30 am: Registration, Breakfast and Networking
9:30 am: Welcome: History, Mission, 2022 Survey Results Introduction & MC: Stephen Harris, Chief Executive, Clearview Publishing Presenter: UHNW Institute Chairman, Stephen Prostano, Partner, PKF O'Connor Davies
10:00 am: Introduction to the Ten Domains The Ten Domains of Family Wealth is an interdisciplinary model representing the specialized landscape that ultra-high-net-worth families inhabit. Consisting of nine disciplines and one central domain, a brief overview of each Domain will be given through the introduction of all 10 Domain Chairs.
10:15 am: Client Complexity Accelerated: Family Trends Affecting the Multigenerational Family, a panel discussion An overview of the changing demographics of families and the accelerating complexity they represent. A discussion on the simultaneous trends of increasing longevity impacting leadership, decision-making, collaboration, mental capacity planning, shared philanthropic planning, and risk management; the increasingly complex and pressing needs for education in multiple roles; needs and consideration for trusts, trustees and beneficiaries. Moderator: UHNW Institute Content and Curriculum Chair, Jim Grubman, Family Wealth Consulting Panel topics:
We're Gonna Need a Bigger Table: Changing Demographics in Family Decision-making
Emerging Leaders, The Rising Gen and the Unmet Needs for Education
The New Beneficiary of 2030
11:10 am: Facilitated Break-Out Sessions
12:00 pm: Synthesis and Shared Insights
AFTERNOON – "Adapt or Die: How Innovative Approaches Will Support Evolving Family – Advisor Relationships"
12:45 pm: Networking + Plenary Lunch Importance of EQ in the Family-Advisor Relationship Speaker: Rick Stevenson, Author, Speaker, Filmmaker speaks on the Importance of EQ in the Family-Advisor Relationship. 
2:00 pm: Provider Complexity Accelerated: Innovative Approaches to Support the Evolving Family, a panel discussion A discussion on how family offices and advisors can meet the challenges arising from a broader, more diverse, more demanding family system wanting a voice in service delivery. Topics will focus on the shifts needed through the lens of Integrated Wealth Management and Practice Management. Panel Topics:
Integrated Wealth Management – The Provider Systems of 2030
Practice Management (PM) in 2030
2:45 pm: Talent Roadmap from Here to 2030: The Core Challenges, a panel discussion A discussion about the future competencies of the 2030 advisor/FO provider. Best practices, recommendations, experiences, and ideas for meeting the challenges of assessing, hiring, compensating, and retaining talent from now to 2030. Panel Topics:
Skills & EQ
Acquisition, Diversity, Training & Development
3:40 pm: Facilitated Breakout Sessions
4:45 pm: Synthesis and Shared Insights
5:15 pm: CONCLUDING REMARKS Recommended action steps and what The Institute will be doing to support YOU!
5:30 to 6:30 pm Cocktails hosted by a Member Firm
7:00 to 9:00 pm  Dinner hosted by a Member Firm
Please see here a downloadable PDF of the day's program.
---
Logistics
Date and Time
Date: Wednesday 2nd November - 2022
Time: 8:30 am – 9:00 pm Eastern Standard Time
Venue
Dentons
Address: 1221 Avenue of the Americas, New York, NY 10020-1089
Highlights 2021
Register
Symposium Registration
Please register here to sign up for the symposium. It will take place as an in-person event and virtually. You will have an option to register for in-person or virtual attendance.
For in-person attendees, please take note of the Health Screening Questionnaire for Visitors to the Dentons US Offices here.
In the meantime, for any questions, please email Chloe Evans, Director of Administration at The UHNW Institute.
---