Overview

The Ten Domains Model One Year Later: Deepening the Conversation
One year ago, the Ten Domains Model was rolled out as the first major initiative of the UHNW Institute. It organized the area of UHNW family wealth in a ground -breaking way after months of collaboration and fine-tuning. The past year has focused on developing and disseminating the model, supported by the domain chairs and a broad marketing campaign bringing attention to the Institute. This event draws together the collective wisdom of the Institute's faculty, leadership, and members to learn more about, discuss, and expand on the Ten Domains model through active discussion and engagement. Ideas, questions, concerns, and opportunities will all be explored. The event will truly fulfil one of the missions of the Institute – to be a think tank engaged in learning and leadership.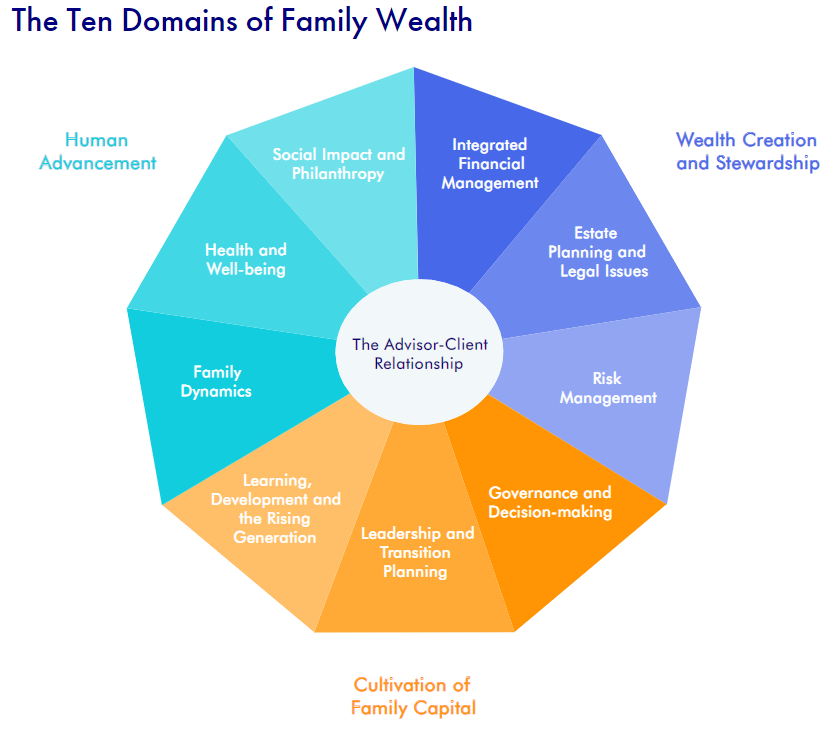 The 10 Domains of Family Wealth represents an important conceptual framework for understanding the issues facing ultra-high-net-worth (UHNW) families, including the skills required to serve their needs. The 10 Domains model recognizes that comprehensive UHNW wealth management extends far beyond the realm of investments, taxation, risk management, and legal matters alone. The model highlights the full range of skills and services needed to help financially successful families prosper. It recognizes the contributions of family governance, leadership development, family dynamics, development of the next generation, health matters, and philanthropy in implementing and transferring wealth across generations. Importantly, the model underscores that the competencies in the advisor-client relationship are a central, unifying domain integrating all the other factors.
Agenda
Tuesday 8 June 2021
10:05 AM Introduction
10:35 AM Panel discussion: Introducing The Ten Domains
11:05 AM Breakout sessions: The Ten Domains
12:05 AM Panel session: Family Offices
12:35 AM Closing remarks
Wednesday 9 June 2021
10:00 AM Introduction
10:35 AM Panel discussion: Introducing The Ten Domains
11:05 AM Breakout sessions: The Ten Domains
12:05 AM Panel session: Integrated Wealth Management
12:35 AM Closing remarks
More details on the various sessions to follow soon.
---
Logistics
Date and Time
Tuesday 8th June, 2021 - to Wednesday 9th June, 2021 -
Venue
Online
Speakers

Stephen Harris
CEO
ClearView Financial Media
Stephen Harris is chief executive of ClearView Financial Media, publisher of global wealth management news sites WealthBriefing, Family Wealth Report and WealthBriefingAsia; as well as compliance, tax and remuneration-centred Compliance Matters, Offshore Red and Executive Compensation Briefing respectively. He has 25 years' financial publishing experience, 17 years of which have been running growth companies.
He has written extensively on global wealth management issues and leads ClearView's global events team. As well as training as an accountant, Stephen has worked as a hedge fund manager and as a private banking headhunter.
Taking his wealth management knowledge from behind his publications, Stephen is often at the centre of a variety of thought-leadership events in the industry. He has spoken on a number of panels and webinars as an expert in the field, as well as commentating on television, and leading internal staff training programmes.
Not only has he chaired panels at numerous conferences organised by ClearView in the UK, US and Asia; Stephen has chaired filmed round-tables for firms, such as BNP Paribas and Appway.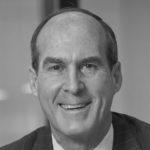 Jamie McLaughlin
Founder and Chief Executive
J. H. McLaughlin & Co.
In 2010, Jamie McLaughlin founded J. H. McLaughlin & Co., LLC, a management consulting firm focused on strategy and practice management for wealth management and investment advisory firms, private banks, trust companies, single and multi-family offices. He has over 25 years of experience in both senior operating roles and client-facing roles in the ultra-high net worth and family office segments of the industry. Previously, he was CEO of Geller Family Office Services, a partner at Convergent Wealth Advisors where he built the firm's New York office, the regional president of Mellon Private Wealth Management's New York region, and a financial advisor at Sanford C. Bernstein & Co., Inc., where he started in the wealth management industry. Earlier in his career, Mr. McLaughlin served in the Connecticut General Assembly for a decade as a two-term State Representative and a three-term State Senator.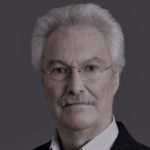 Steve Prostano
Partner, Head of Family Advisory Services
PKF O'Connor Davies
Steve is an innovator and thought leader in the global financial services industry. He has built leading MFOs and asset management firms and has advised industry leaders and UHNW families and family offices for over 30 years. Prior to PKFOD, Steve was the Head of Family Wealth Advisors, the first global MFO in the U.S. and a division of Bank of the West | BNP Paribas, where he served on the Bank's Senior Management Committee. He is also the founder of The UHNW Institute. Steve previously served as the CEO of Silver Bridge, President of Atlantic Trust, President of Chase Global Asset Management and he also held senior positions with Fleet, Mellon Bank, and KPMG.
Register
Conference registration
Please register here to sign up for the conference. We will be in touch with the next steps in the second half of May.
In the meantime, for any questions about content, speaking, attending, and bulk ticket orders, please email:
Theodora Viney: Theodora.viney@clearviewpublishing.com
---