Overview

The Ten Domains Model One Year Later: Deepening the Conversation
One year ago, the Ten Domains Model was rolled out as the first major initiative of the UHNW Institute. It organized the area of UHNW family wealth in a ground -breaking way after months of collaboration and fine-tuning. The past year has focused on developing and disseminating the model, supported by the domain chairs and a broad marketing campaign bringing attention to the Institute. This event draws together the collective wisdom of the Institute's faculty, leadership, and members to learn more about, discuss, and expand on the Ten Domains model through active discussion and engagement. Ideas, questions, concerns, and opportunities will all be explored. The event will truly fulfil one of the missions of the Institute – to be a think tank engaged in learning and leadership.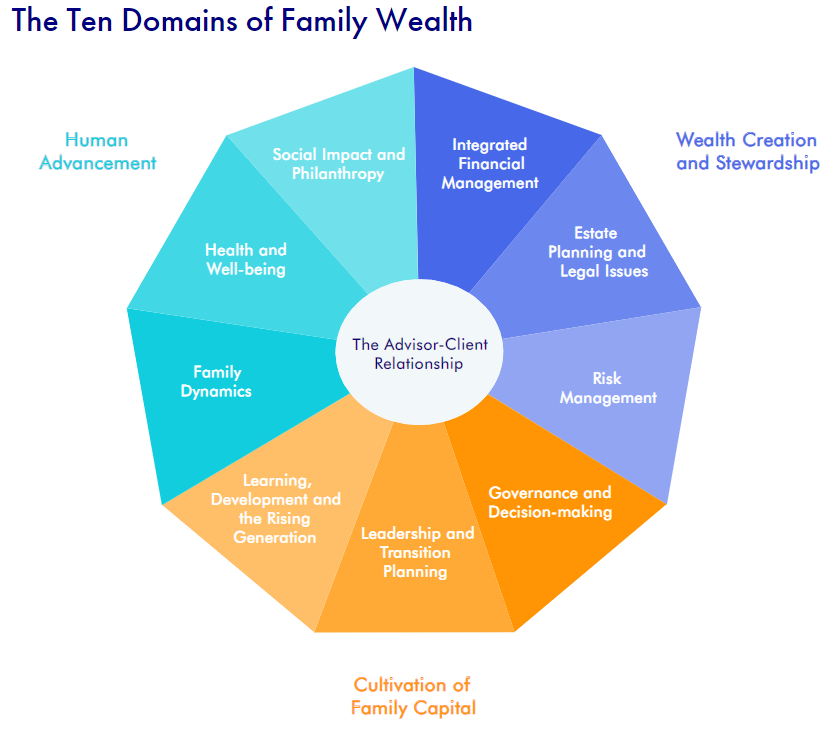 The 10 Domains of Family Wealth represents an important conceptual framework for understanding the issues facing ultra-high-net-worth (UHNW) families, including the skills required to serve their needs. The 10 Domains model recognizes that comprehensive UHNW wealth management extends far beyond the realm of investments, taxation, risk management, and legal matters alone. The model highlights the full range of skills and services needed to help financially successful families prosper. It recognizes the contributions of family governance, leadership development, family dynamics, development of the next generation, health matters, and philanthropy in implementing and transferring wealth across generations. Importantly, the model underscores that the competencies in the advisor-client relationship are a central, unifying domain integrating all the other factors.
Agenda
Tuesday 8 June 2021
10:00 am EST Welcome & Introduction
Steve Prostano, Founder, The UHNW Institute/Partner, PKF O'Connor Davies Family Office
10:10 am EST  The Ten Domains of Family Wealth – The First Year
A review of how the ultra-high-net-worth community is embracing this new and comprehensive framework that addresses wealth creation and stewardship, cultivation of family capital, human advancement, and the advisor-client relationship.
Moderator: Jim Grubman, Family Wealth Consultant/Educator
Follow-on topical sessions:
Wealth Creation and Stewardship: Integrated Financial Management; Estate Planning and Legal Issues; Risk Management
Facilitators:
Tom McCullough (Finance), Chairman, CEO, and Co-Founder, Northwood Family Office
Kim Kamin (Legal), Principal and Chief Wealth Strategist, Gresham Partners
Linda Bourn (Risk), National Director Family Enterprise Risk Practice, Alliant Private Client
Cultivation of Family Capital: Governance and Decision-Making; Leadership and Transition Planning; Learning, Development & The Rising Generation
Facilitators:
Stacy Allred (Leadership), Managing Director, First Republic Investment Management
Dennis Jaffe (Governance), Senior Research Fellow, BanyanGlobal Family Business Advisors
Kathy Lintz (Learning and Development), Partner & Managing Member, Matter Family Office
Human Advancement: Social Impact & Philanthropy; Health & Well-Being; Family Dynamics
Facilitators:
Jill Shipley (Family Dynamics), Managing Director and Head of Governance and Education, Tiedemann Advisors
Susan Winer (Philanthropy), COO, Strategic Philanthropy
Advisor-Client Relationship – Facilitator

Jim Grubman, Family Wealth Consultant/Educator
11:55 am EST Panel discussion: Family Offices – Challenges and Developments
Stories from the field that discuss the evolution of the single-family office and explore the ways families and the executives leading their offices can embrace change to deal with today's challenges and serve future generations.
Moderator: Bill Woodson, Executive Vice President, Head of Wealth Advisory and Family Office Services, Boston Private
Michelle Clements, President, Synergy Trust Partners
Dennis Jaffe, Senior Research Fellow, Banyan Global Family Business Advisors
Tom Handler, Chairman, Advanced Planning and Family Office Group, Handler Thayer
Barbara Hauser, International Family Governance | Global Speaker & Workshops | Family Offices | Boards
Linda Mack, Founder and President, Mack International, LLC
12:55 pm EST Close
Wednesday 9 June 2021
10:00 am EST Welcome & Introduction
10:05 am EST Panel discussion: The Promise, Perils, and Path to Truly Integrated Wealth Management: What Works?
A conversation that introduces the concept of integrated wealth management and highlights: its top components, deliverables expected by clients, generational issues to consider when setting client expectations, overcoming business challenges when delivering integrated wealth management, untapped opportunities
Moderator: Joe Calabrese, COO, Wealth Management at KeyBank
Keith Lender, President, Baldwin Street Management
Tom McCullough, Chairman, CEO, and Co-Founder, Northwood Family Office
Tania Neild, CTO and Owner, InfoGrate
Allan Zachariah, Co-CEO and Advisor to Families of Significant Wealth, Pathstone
11:25 am EST Break
11:35 am EST Panel discussion: Looking Ahead: Serving the UHNW Family of the Future
Best practices delivering wealth management in the future in light of Changing demographics, Client expectations, Regulations, Evolving business models
Moderator: Jim Grubman, Family Wealth Consultant/Educator
Andrea Ayres, Director, Family Office at Brown Advisory
Michelle Clements, President, Synergy Trust Partners
Steve Prostano, Partner, Head of Family Advisory Services at PKF O'Connor Davies
Greg Rogers, Founder & Managing Partner, RayLign
12:35 pm EST Summit close
---
Logistics
Date and Time
Tuesday 8th June, 2021 - to Wednesday 9th June, 2021 -
Venue
Online
About our Sponsors
HIghlights
For more information on session content, please contact theodora.viney@clearviewpublishing.com