Overview
Now in its Fifth year, the Annual WealthBriefingAsia Greater China Awards process has once again produced a list of worthy winners.
The focus of this process, part of the global awards programme at WealthBriefing, has been to recognise excellence within the world of private banking be it domestic or international within the hugely vibrant Greater China Region.
We added some exciting new categories this year, including ones covering individual achievement as part of career progression and a category looking at growth strategy.
The Annual Gala Dinner – a celebration of the winners – will not be happening this year but we are running the wider regional WealthBriefingAsia Awards this year in Singapore in October, where we will be recognising winners from this region in addition to the usual South-East Asia and Pan-Asia categories.
Winners have been invited to contribute to post awards Acclaim Magazine and will have a video interview with Group Editor Tom Burroughes.
Key Dates
1 August 2019 Nominations Open
Midnight (UK time) 12 December 2019 Nominations Close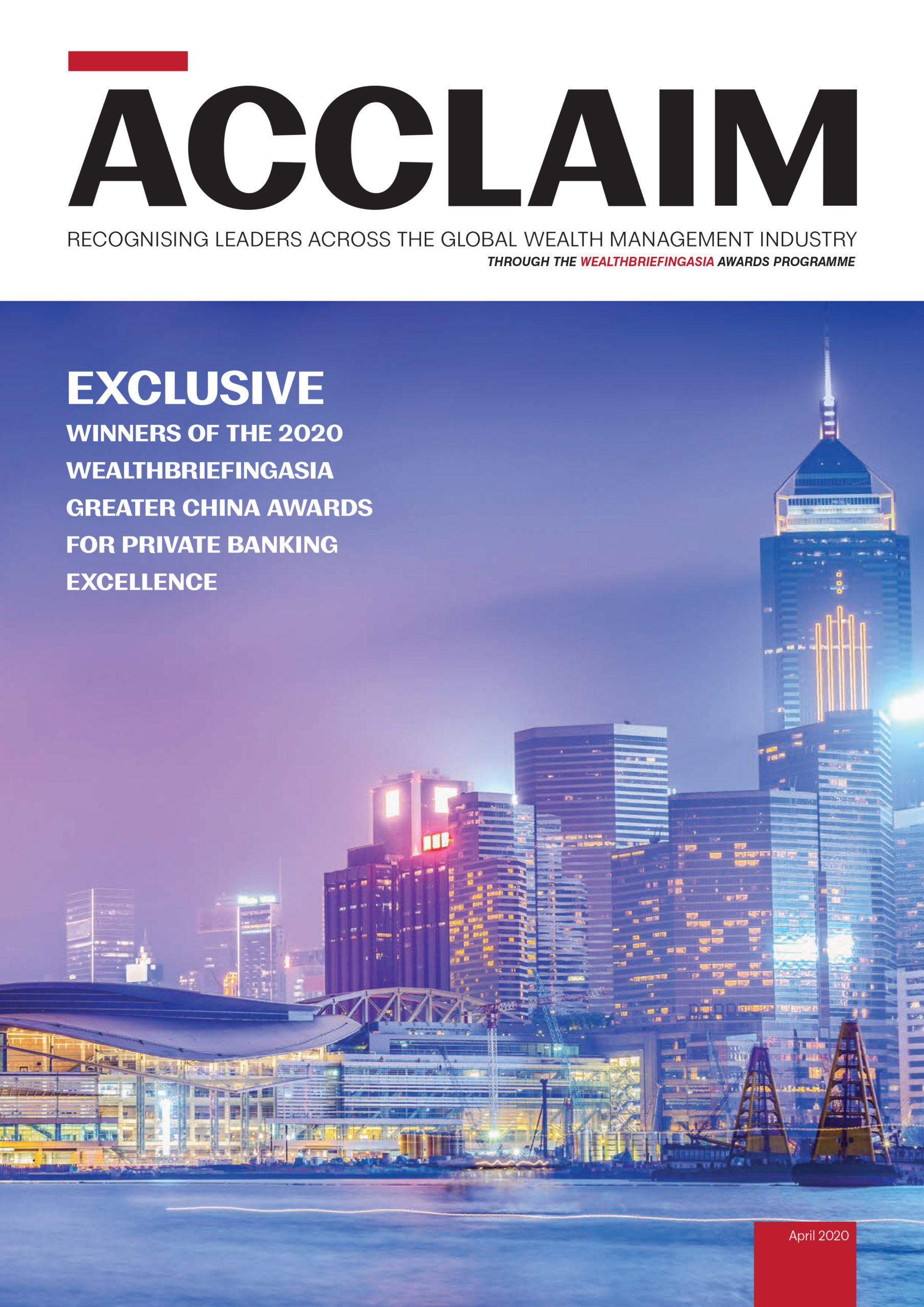 About our Sponsors
Featured Sponsors
Headline Sponsor

Refinitiv, an LSEG (London Stock Exchange Group) business, is one of the world's largest providers of financial markets data and infrastructure. With $6.25 billion in revenue, over 40,000 customers and 400,000 end users across 190 countries, Refinitiv is powering participants across the global financial marketplace.
We provide information, insights, and technology that enable customers to execute critical investing, trading and risk decisions with confidence. By combining a unique open platform with best-in-class data and expertise, we connect people with choice and opportunity – driving performance, innovation and growth for our customers and partners.
Sponsors
Winners
OVERALL REGIONAL PRIVATE BANK
HSBC Private Banking
WEALTH MANAGER OF GREATER CHINA FAMILIES
Hywin Wealth
HONG KONG DOMESTIC PRIVATE BANK
HSBC Private Banking
HONG KONG INTERNATIONAL PRIVATE BANK
Citi Private Bank
EXTERNAL ASSET MANAGER (EAM) SERVICE PROVIDER
VP Bank
CREDIT PROVIDER
BNP Paribas Wealth Management
PURE PLAY BOUTIQUE PRIVATE BANK
UBP
WEALTH PLANNING TEAM
BMO Private Bank
ALTERNATIVES PROVIDER
HSBC Private Banking
NRI OFFERING BY A PRIVATE BANK
BNP Paribas
PHILANTHROPY SERVICES
BNP Paribas Wealth Management
SRI OFFERING
CA Indosuez
DISCRETIONARY PORTFOLIO MANAGEMENT OFFERING
EFG Bank
BEST WEALTH MANAGER SERVICING FAMILIES
BMO Private Bank
PRIVATE EQUITY PROVIDER
Citi Private Bank
IMPACT INVESTING
BNP Paribas Wealth Management
CLIENT EXPERIENCE
Citi Private Bank
EXCELLENCE IN SERVICING NORTH AMERICAN CLIENTS
Stephenson Harwood
PRIVATE BANKING REGIONAL PARTNERSHIP
VP Bank
REGIONAL GROWTH STRATEGY AND IMPLEMENTATION
HSBC Private Banking
FIXED INCOME OFFERING
CA Indosuez
BEST PRIVATE BANK FOR FAMILY GOVERNANCE SERVICES
HSBC Private Banking
BEST NEXT-GEN PROGRAMME
Citi Private Bank
BEST FAMILY WEALTH ADVISORY OFFERING
LCA Solutions
BEST GOVERNANCE SERVICE FOR FAMILIES
Baker McKenzie
WEALTH MANAGEMENT RISING STAR UNDER 30
Stephenson Harwood – Ian Yeung
WOMAN OF THE YEAR
Hywin Wealth – Wang Dian
LIFETIME ACHIEVEMENT
Stephenson Harwood – Kevin Lee
OUTSTANDING INDIVIDUAL
Kenneth Ho, CARRET Private Capital
BEST WEALTH MANAGER SERVICING THE TAIWAN MARKET
Raffles Family Office
RISING STAR UNDER 40
Stephenson Harwood – Kwan Chi Man