Compliance Matters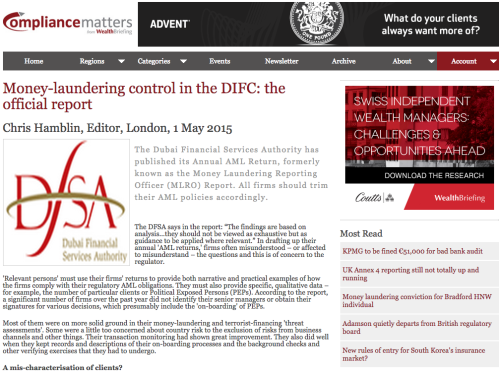 Compliance Matters is the key source of international news and analysis on the latest regulatory initiatives within the private banking and wealth management industry.
Why read Compliance Matters?
Failure to understand and adhere to current financial regulation and laws carries severe penalties in the form of imprisonment and large-scale fines. Therefore, the gravity of non-compliance cannot be underestimated by compliance professionals and the C-level executives who hold ultimate responsibility.
Compliance Matters provides readers with exclusive access to expert analysis and advice on how best to operate a business within the legal bounds. With breaking news and in-depth features explaining the complexities of regulation, this essential resource provides the reader with detailed copy available nowhere else.
Key features include:
Essential information on legislative, compliance and regulatory changes
In-depth analysis and comment from our specialist editorial team and global experts
Contains handy compliance hints and how-to-do-its
Charts the trends of moves and hires in the compliance area
Results and commentary from regular polls revealing the industry's regulatory concerns