WealthCareers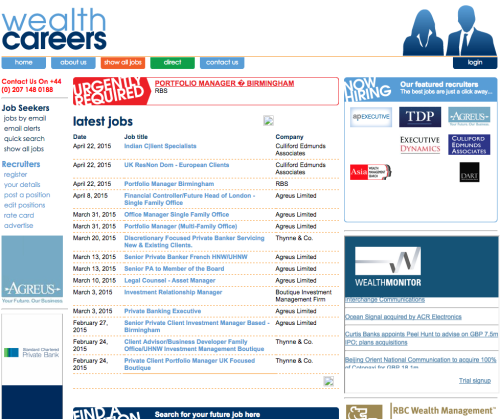 WealthCareers is the world's only dedicated online recruitment service that focuses exclusively on the needs of the wealth management market.
WealthCareers provides recruiters and wealth management firms with targeted, cost-effective access to wealth management professionals around the world.
Whether you are looking for a chief executive, relationship manager, asset manager, trust specialist or a compliance/operations professional, WealthCareers gives you the best chance of finding the right candidate to fill your vacancy quickly.
With over 60,000 page impressions per month, WealthCareers provides you with the most effective platform to advertise your position to a targeted audience. Positions can be targeted within a single country, regionally or globally.
Manage your account
Position posting gives the recruiter the opportunity to specify job function, seniority and salary range, as well giving a summary of the position itself.
A fast, effective and targeted service
WealthCareers provides you with your own senior account manager who will consistently create ways to improve response rates or build brand awareness. Thousands of applications are received per week, typically from high-calibre, experienced candidates in the wealth management sector.
WealthCareers weekly email
WealthCareers delivers a weekly email to over 60,000 wealth management professionals from the ClearView subscriber base. Having your job listed as either "Job of the Week" or as one of the "Latest Positions" is a highly-targeted method of reaching a unique global community of wealth professionals.
WealthCareers also offers strong brand presence through banner advertising.